The (Hot!) Phantom of the Opera
This entry's a little late, especially since I saw
The (Hot!) Phantom of the Opera
way back in February (um, three times). But I thought I'd dedicate this here post to
him
the film since I just purchased a *cough*bootleg*cough* copy from my favorite CD vendor along Silom Road before the Songkran holiday. And before you run off to alert the authorities, I'll have you know that I
do
intend to buy the DVD when it comes out. It's just that, well, patience was never really my strongest forte.
I first heard about The Phantom of the Opera when I was in 4th grade. My teacher, Ms. Miller, was an INSANE POTO fan. She made us listen to a song off the London West End version of POTO
every single frickin morning
. Some days it was
Music of the Night
, which was good for lulling us to sleep. Other days it was
The Point of No Return
, which was pretty scandalous in itself considering we were just a bunch of 9-year-old kids listening to lyrics like,
What raging fire shall flood the soul? What rich desire unlocks its door? What sweet seduction lies before us?
("What's seduction, Ms. Miller?"); and,
In my mind I've already imagined our bodies entwining defenceless and silent
("What's entwining, Ms. Miller? How can I make my body entwine?"). And everyday sweet Ms. Miller -- bless her heart -- would swoon in her chair and tell us for the umpteenth time about the Phantom and how so very sad it was that he was condemned to live out the rest of his days alone and heartbroken in the basement of the Opera Populaire, and how it was all that black-hearted Christine Daae's fault. Yawn, we all said, but if it meant shorter math lessons, then great! Crank up the volume! Bring on the Andrew Lloyd Webber masterpieces!
The most fun song for me, however, was
the movie's theme song
. I mean, how laughingly 80's can you possibly get? It was perfect. There were the electric guitars, syncopated percussions, pipe organs, and everything. The only thing that was missing was the big hair, shoulder pads, and Meatloaf. The 2004 movie version is even greater, because guess what? They've got hand claps! ("In sleep he sang to me" --
clap, clap!
-- "In dreams he came" --
clap, clap!
) Makes me laugh like a loon. By the time the "sing, my angel of music -- SING!" part comes along, I'm usually in tears.
Anyways, without further ado, I shall present to you...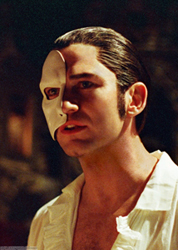 The Phantom of the Opera!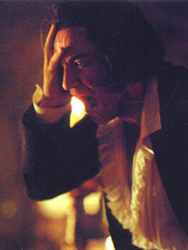 Like all great men, our dear Phantom friend here has his flaws, namely his, um, slight anger management issues.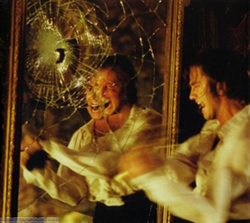 OK, serious anger management issues.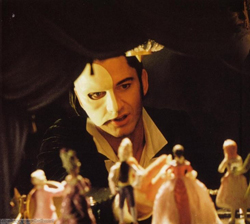 And maybe his behavior can veer on the disturbingly obsessive, what with all those dolls he likes to stock up on... not to mention that really creepy life-sized Christine-in-her-Wedding-Dress doll.



And alright, maybe he can get a tad bit stalkerish at times, peeking in on you when you're sleeping, dressing, bathing, etc...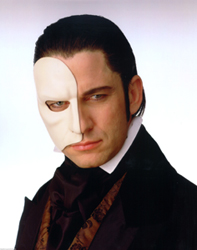 But hello, if Gerard Butler, er, I mean, the 2004 movie version of the Phantom wants to drag me down to his basement and keep me captive...



...then hey, I'm all for that!




I thought the movie was awesome. Maybe it's because I'm a sucker for musicals, period films, and Scottish guys in general (read: Ewan McGregor, Dougray Scott, Clive Owen), but honestly, I think Joel Schumacher did a great job in translating the stage version to film. As for the cast, beautiful Emmy Rossum has a gorgeous voice and did a fine job as Christine; Minnie Driver was plain BRILLIANT (think Mariah Carey as a 19th century diva -- oh wait, that's actually not so hard, is it?); Patrick Wilson was great, though I really don't get why he looked like a cross between Fabio and my Hanson boys circa 1997; and Gerard Butler was... well, I think you already know what I think about him! ;)

Of course there were a few slips. Like, why were there American and English accents flying all over the place when this was supposed to have taken place in 19th century PARIS, FRANCE? Also, does anyone else also think that Christine has some serious daddy issues? I know she's supposed to be sweet, naive and all that good sugar and spice stuff, but really, I just wanted to shake her during the graveyard scene. Hello, that is so not your dad! Your dad doesn't have a huge radiation burn on the side of his face, nor does he go around gallivanting in a big black cape!

Still, great film all around. And no, I did not cry at the end when the Phantom sits all alone in his big batcave with the little monkey music box and sings to himself, "Christine, I loooOOooove you." Not out loud, anyway.


Currently Playing: Black Balloon By Goo Goo Dolls (Johnny Rzeznik, be mine)
Currently Reading: The Curious Incident of the Dog in the Night-Time By Mark Haddon (Since Mark Haddon lives in Oxford, Aparna ran into him once while she was studying there. I asked her, "So what other famous people hail from Oxford?" She said, "Mr. Bean. I saw him cruising in his red-hot convertable once, which was kind of weird." I agree, Mr. Bean and convertables just don't mix.)